eme's Aluminum Gantry Crane Replaces Overhead Cranes at a fraction of the
Fort Erie, Ontario – Easily Moved Equipment (eme), a leading manufacturer of innovative lifting solutions, is excited to announce the expansion of its line of lightweight and portable aluminum Gantry Cranes targeted at the helicopter maintenance market. The new 6600Max and 8800Max have lift capacities of 6,600 lbs (3 tonnes) and 8,800 lbs (4 tonnes) respectively, with lift height of up to 216 inches, sufficient for component work. These new, lightweight, portable cranes are capable of lifting an empty Bell 412.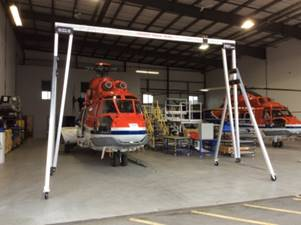 "We are thrilled to introduce our new aluminum gantry cranes for the helicopter industry," said Kyle Flynn, President of Easily Moved Equipment. "We've spent over 15 years servicing the helicopter industry and we believe that these new cranes give operators unprecedented flexibility to plan their operations. The lightweight and portable design makes it easy to use, and the strength and durability mean that it can handle even the heaviest loads. We believe that these new aluminum gantry cranes are the ultimate portable overhead cranes. The response and feedback from our customer base has been absolutely fantastic."
The eme line-up of aluminum Gantry cranes is the perfect alternative to expensive overhead cranes and it provides unprecedented flexibility for the helicopter maintenance industry. Including the 2200Max and 4400Max, eme's lineup of tall lightweight and portable aluminum Gantry Cranes has a full range of lift capacity from 2,200lbs up to 8,800lbs.
The eme 6600Max and 8800Max Gantry Cranes are comprised of ultra-high-grade North American sourced materials and components. The frame is composed of high-strength 6061 custom aluminum extrusions, making it both lightweight and strong. The 4-way swivel caster lock for both swivel and roll, making it simple to maneuver the crane, allowing technicians to work on the aircraft with precision. Height adjustment holes permit height changes in 8" increments and is easily raised or lowered with the eme height adjustment kit. The proprietary eme beam trolley allows the load to glide seamlessly over the beam while fully loaded. All eme Max series aluminum gantry cranes are certified to roll fully loaded and are load-cell tested to OSHA standard prior to shipment to the customer. It comes with the standard eme 10 year warranty on design.
A major benefit of the eme aluminum Gantry Crane is mobility and portability. Technicians can now work on around a hangar or out on the ramp, without the constraints imposed by a fixed overhead crane. If an operator needs to re-locate facilities or take the Gantry Crane into the field, the eme aluminum Gantry Crane can be quickly broken into 3 transportable components, making it simple to transport in a box truck or pick-up.
eme has also created specific accessories for the Helicopter industry. For Medi-Vac operators eme has a 2,200 lbs Split Beam, that can be broken down into two pieces and then reassembled on location. This design can fit into a hospital elevator and be quickly reassembled on the helipad to rescue a stranded aircraft.
For over 15 years eme has serviced the helicopter maintenance industry with units in North America, Europe, Africa and Asia, and at sea on cruise ships.
These 2 new models answer the need to provide maintenance for the heavier and taller segment of the market requiring lifting and safe moving of helicopters up to 8,800 lbs.
The eme Gantry is available for purchase through Easily Moved Equipment. Please visit the website at easilymovedequipment.com or and tell us how we can help at 1-888-679-5283
For more information contact us at: kyle@easilymovedequipment.com
About Easily Moved Equipment
Easily Moved Equipment is a leading manufacturer of innovative lifting solutions, including aluminum gantry cranes and davit cranes. The company is committed to providing high-quality, durable products that meet the needs of its customers. For more information, please visit www.easilymovedequipment.com.
Media Contact: Kyle Flynn, Easily Moved Equipment Phone: 424-347-8588 Email: kyle@easilymovedequipment.com