Davit Cranes
We've designed our lightweight Davit Cranes for the operator.

 

We've focused on simplicity, minimizing the number of parts and components.

 

At just 34 lbs,

eme

's aluminum Davit Cranes are lightweight and easily carried from socket-to-socket.

 

Simply insert the aluminum Davit Crane into the Socket, engage the backstrap and the Davit Crane is ready to begin lifting.

 

The

eme

sockets use a precision machined high-tech bushing that creates our signature Smooth Glide System, resulting in a a seamless 360 degree turn even while the Davit is under full load.

 
Standard eme Davit Crane Models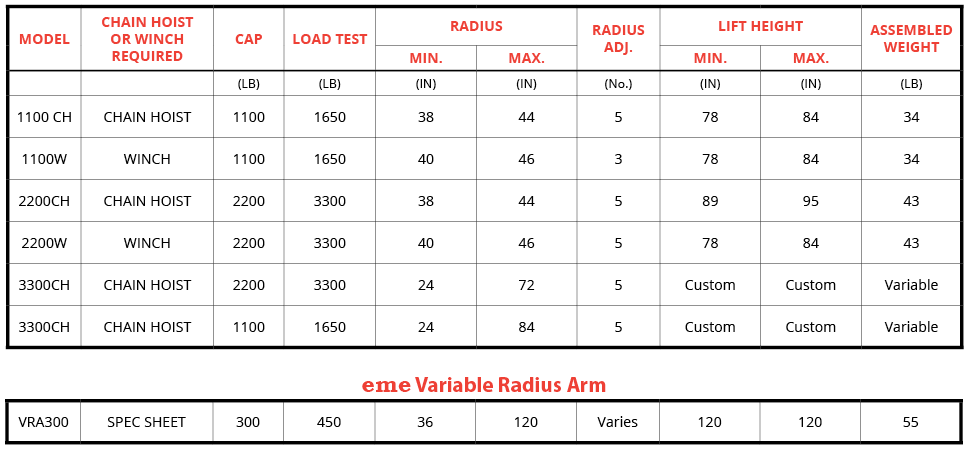 The eme Davit and Socket System
The eme Davit and Socket Service Network (DSSN) allows a single eme Davit Crane to service a diverse network of Sockets. By installing an eme Socket at each lift location, the eme Davit Crane can then be used to service that base whenever a lift is required.
The eme DSSN drives significant benefits including a lower total cost of ownership (TCO), maximum system level lifting flexibility, and reduced complexity and easy network expansion.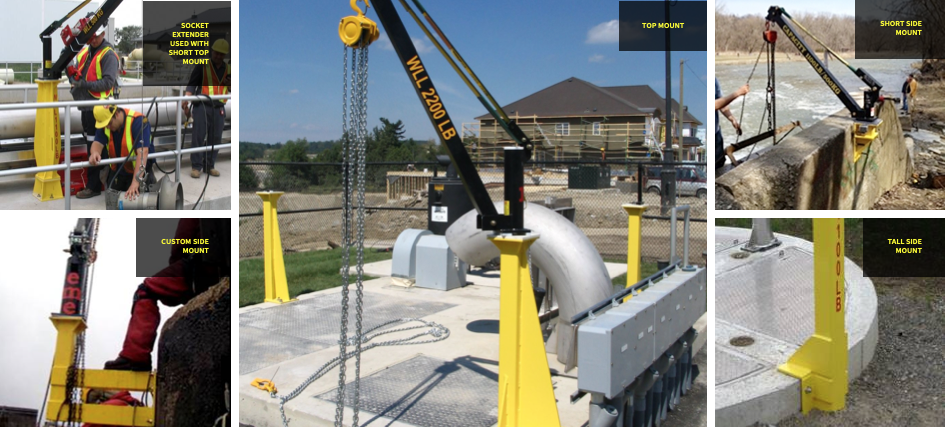 eme Davit Crane and Socket Features
Lightweight, all-aluminum construction
One-piece Davit arm reduces chance of damage compared to complex multi-component pieces of equipment 
Grade L9 chromate-plated fasteners
Crosby shackles for optimum radius adjustment
Industrial-grade powder coat finish
Fabric radius strap designed to absorb shock-load when raising or lowering submersible pumps
Smooth Glide System results in seamless 360° rotation while under full load
Extensive standard sockets configurations that can easily be customized for any lifting environment
Davit Crane Benefits
Simple Assembly: Easily place the Davit Crane into a socket. No tools required.   
Portability: The Davit folds up for ease of carrying. Mobile solution is easily transported offsite in a pickup truck to service an off-site socket.
Rapid Adjustment: Operators can easily remove the radius adjustment bolts with a single wrench.
Maximize Safety: Ultra lightweight aluminum design at just 34 lbs reduces the risk of injury.
Smooth Rotation: eme Smooth Glide System minimizes friction while turning under load, keeping the operator safely away from the well opening.
Variable Radius Arm
The VRA300 (Variable Radius Arm) is also compatible with the

eme

sockets. It is designed to provide the radius necessary to pick UV Light Arrays for easy maintenance. From a central socket location within a radius of up to 15 ft. (4.57 m), the VRA300 can pick up UV Light Arrays or other lightweight equipment, such as pumps, motors, etc. Rated at 300 lbs (136 kg), the VRA300 it offers a significantly lower Total Cost of Ownership than lifting alternatives.
Winch or Hoist
The

eme

Davit accommodates either a winch or chain hoist.
Safety & Certification
eme
takes your safety seriously. 
eme
has been manufacturing Davit Cranes since 2003 and has an impeccable safety record.  Every
eme
Davit Crane comes with:
Engineers Stamped Drawings
Load tested before shipment to 150% of rated capacity
Certificate of Test shipped with each product and corresponding serial number
Our Davit Crane Warranty
We have full confidence in our product design and craftsmanship, which is why we offer the most comprehensive 10-year warranty in the industry.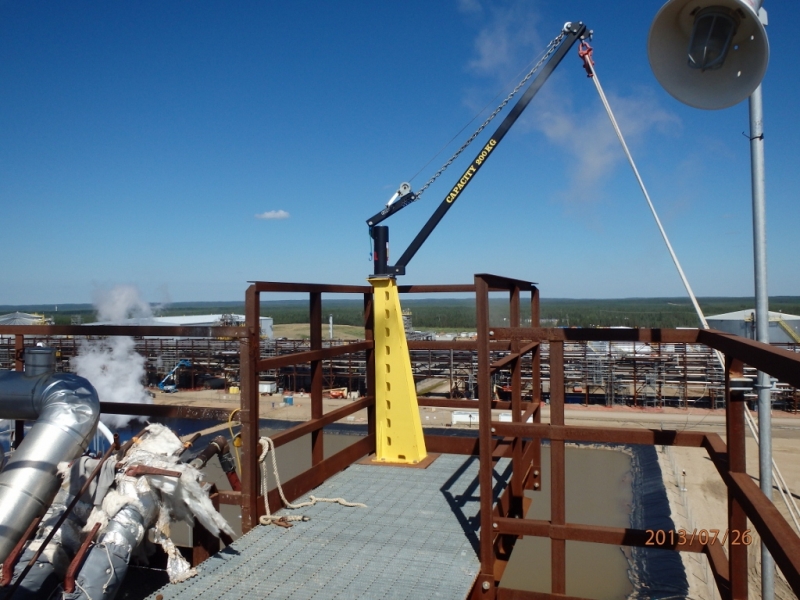 Water & Wastewater Plants
We can help reduce costs, increase efficiencies and make work safer at your facility or project site.
Give us a call 1-888-679-5283 
or Chat with Us!
Join our community of eme Operating Professionals!