Gantry Cranes
eme manufactures the world's finest aluminum Gantry Cranes. Our innovative aluminum design is lightweight, strong, and portable with lifting capacities that range from half a ton to ten tons. 
eme Standard Gantry Crane Models
Gantry Crane Rapid Spec Tool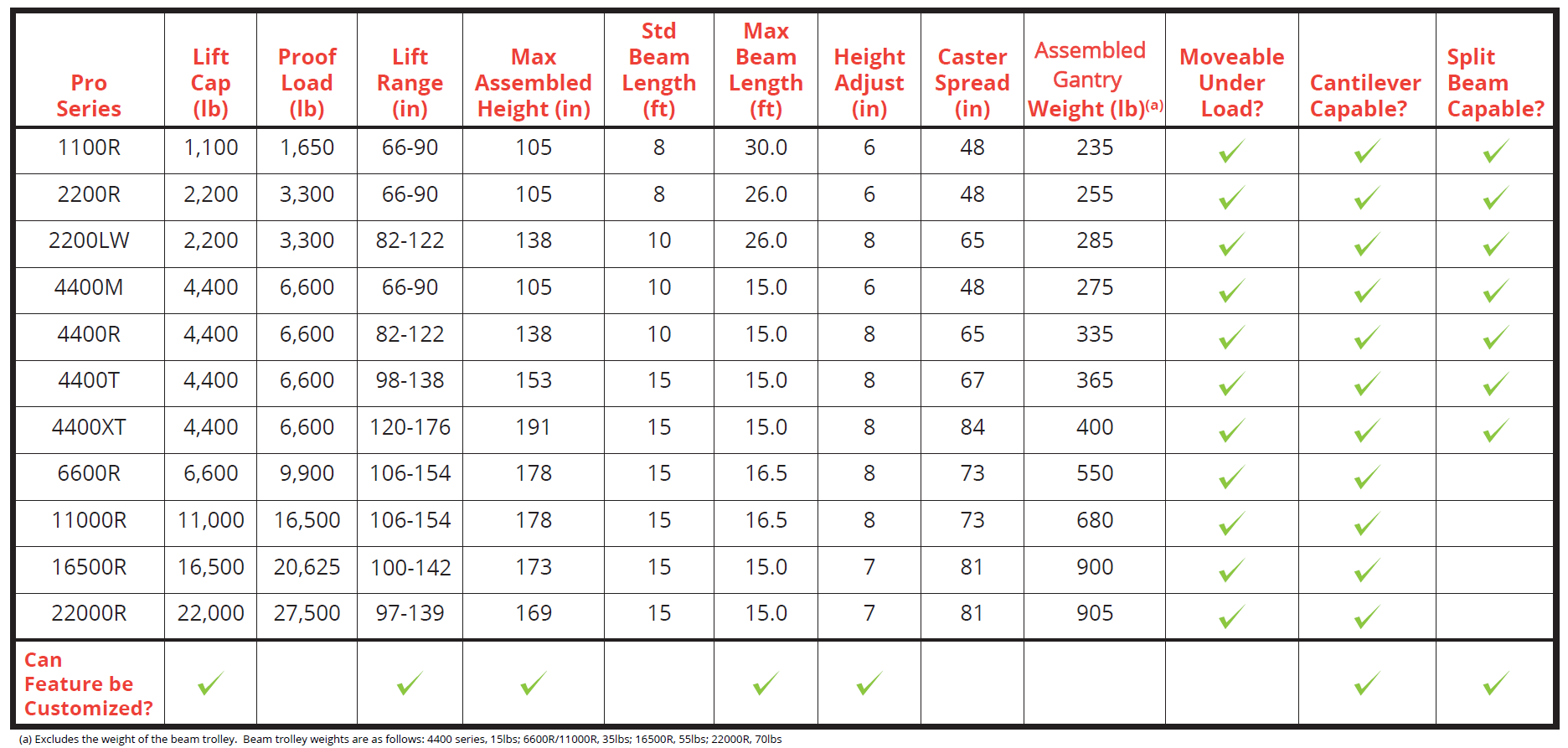 eme Equipment Design Principles
Safety, Simplicity, Mobility & Portability Designed for the operator
Operator Safety
All products are designed and tested to meet or exceed regulatory requirements and to focus on operator safety
Simplicity
Our products are designed to be intuitive, easy to use and operate without the need for complex rigging equipment or machinery
Mobility & Portability
Our innovative designs can easily be moved under load or transported to off-site locations, minimizing the need for redundant equipment that can consume limited floor space
Key Product Features Designed for the Operator
eme's Gantry Cranes offer unprecedented mobility and versatility as they're easy to assemble and easy to move safely under their full-rated load, backed by an industry-leading warranty.
High-tech, all-aluminum-alloy construction (Legs, Beam, Beam Trolley)
Easily transported between job sites in a standard-sized pickup truck and easily made compact for storage
Locking 'surround-beam' trolley rides on top of the beam and cannot derail, enhancing operator safety
Hollow beam allows for ground-up assembly, making it easy to build for two to four people
Casters that lock independently (for swivel and roll), so Gantry can be steered and rolled under load
Easy-grip, operator-friendly handles for height adjustment
Aluminum billet handles on beam for easy carrying
Grade L9 plated fasteners
Optional steel shipping pallet for even easier gantry crane transportation
Lightweight, Portable, Ease of Use
Designed with the maintenance operator as our focus, the lightweight and portable eme Gantry Cranes, moveable under full rated load, offers best-in-class ease-of-use. With our box-beam design, two operators each with a wrench, can quickly build it from the ground up in typically 5 minutes. Our focus on simplicity means this can all be done by tightening just 4 bolts to lock the beam into place.
With the eme portable Gantry Crane systems, an operator can easily adjust the beam height or width to navigate either narrow transit areas, or low over head constraints.  It's lightweight and portable construction makes it easy to transport and assemble at the lift location. Operators can assemble it over piping, motors, pumps, openings or on rooftops. eme has created unique additions to its product family such as the eme split-beam that make it easy to carry a long beam around tight corners.
If your lifting capacity needs change over time, don't worry, you don't necessarily need to purchase an entirely new gantry crane. eme's box-beams are interchangeable in our 1/2T to 5T platform. The resulting eme Gantry Crane will be rated to the lowest rated component. So if most of your lifts are at 5T requiring a 15 foot beam, but you have an occasional 1T lift requiring a 25 foot beam, then don't worry, you can just add the 1T beam to your 5T eme portable Gantry Crane. No need to spend precious capital budget on an entirely new gantry crane.
With the advent of the eme aluminum Gantry Cranes, gone are the days of fixed height, heavy steel I Beam gantry cranes. eme has ushered in a new era of adjustable, lightweight and portable Gantry Cranes that you can adjust for your specific environment.  Even though it's aluminum, we have high lifting capacity, enough to lift heavy machinery!
eme's Broad Aluminum Design Portfolio & Customization
Over the last 17 years eme has assembled the broadest portfolio of aluminum Gantry Cranes in the industry.  Leveraging our broad set of aluminum designs, eme can easily customize its aluminum Gantry Crane portfolio for your specific needs.  If you need your Gantry Crane to lift a specific capacity, lift height or beam width, we can work with you to customize the design.  Our portable gantry cranes can handle up to the heavy loads of 10 tons.  No matter the running surface, we try and work with the customer.  We've done many customizations over the years, from enclosed track to pneumatic tires.  
Customer Service & Rapid Turnaround
We know our customers sometimes need the equipment "yesterday." Don't worry we have you covered! Standard products typically ship quickly after order receipt and custom designs can ship within a few days.
Safety & Certification
eme
takes your safety seriously. 
eme
has been manufacturing Gantry Cranes since 2003 and has an impeccable safety record.  Every
eme
Gantry Crane comes with:
Engineers Stamped Drawings
Design Tested:  1/2T to 5T tested to 150%; 7.5T & 10 ton tested to 125%
Certificate of Test:  Shipped with each product with corresponding serial number
High grade components including swivel casters and Grade 9 bolts
Our Gantry Crane Warranty
We have full confidence in our product design and craftsmanship, which is why we offer the most comprehensive 10-year warranty in the industry.
Accessories Available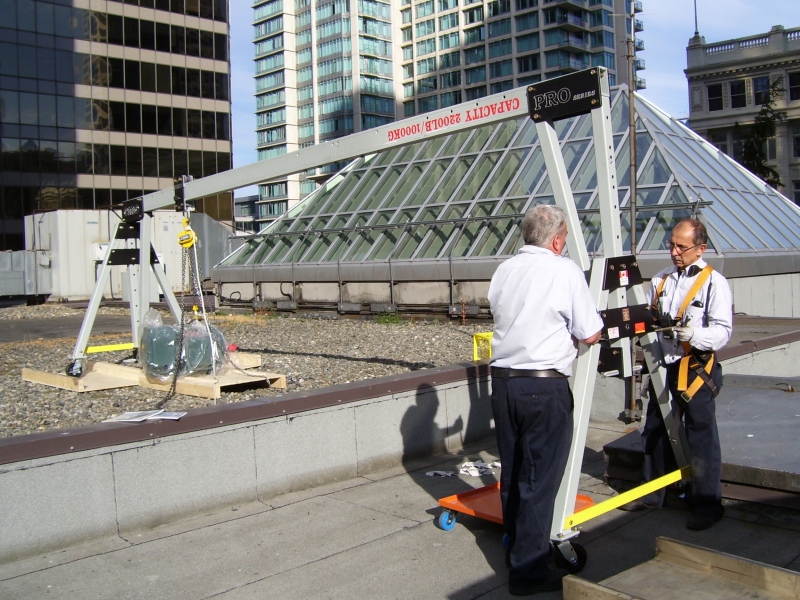 Water & Wastewater Plants
We can help reduce costs, increase efficiencies and make work safer at your facility or project site.
Give us a call 1-888-679-5283 
or Chat with Us!
Join our community of eme Operating Professionals!