Mechanical & Industrial
The lightweight and aluminum eme Gantry Crane is the ultimate piece of lifting equipment for mechanical contractors and facilities maintenance. We've designed it to solve the challenges presented by the complex environment of facilities maintenance. There's no need to spend precious maintenance budget on tools that are rarely used.
eme Standard Gantry Crane Models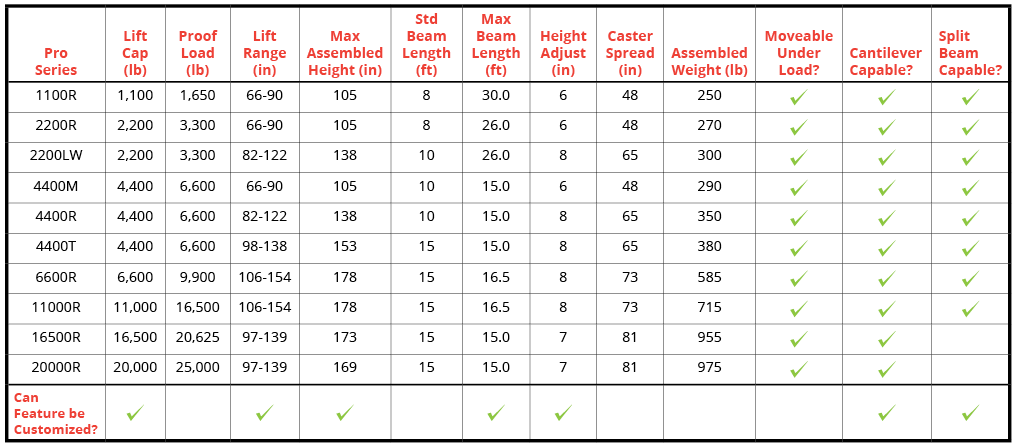 Lifting Equipment Challenges of Mechanical Maintenance
Inconsistent Dimensions
HEPA filters, HVAC units, pumps, piping, compressors all present radically different lifting dimensions resulting in an inconsistent set of problems to solve.
Confined Spaces
Transit ways, elevators, door openings, or ceiling restrictions introduce constraining conditions for the operator tackling facility-related issues.
Different Lifting Requirements
The required lifting capacity can easily range from 1/2T to 5T in most facilities depending on the type of maintenance required.
eme's  Lifting Equipment Solution for the Mechanical Contractor & Facilities Maintenance 
The flexibility we've created with the lightweight, aluminum eme Gantry Crane is the ultimate piece of lifting equipment that the mechanical professional needs to navigate its complex maintenance environment.
Beam and Clear Span Adjustments
All

eme

Gantry Cranes come with standard 4, 8 inch beam adjustments on both legs, allowing the operator to narrow the clear span in space-constrained environments. The beam height can easily be raised or lowered to accommodate height restrictions. The legs can even be placed at different heights to accommodate different floor levels.
Broad Range of Lifting Capacities
For facilities maintenance our most common models are 1/2T to 5T, so we've made all of our

eme

Gantry Crane beams interoperable in these models. We do have higher capacity models of 7.5T and 10 tons if larger lifts are necessary.
The eme Split-Beam
Our highly innovative

eme

Split-Beam gives the operator 3 beams in 1. A 20-foot beam can be broken into a 12-foot and 8-foot beam, all with 1T lifting capacity. All three beams have the exact same adjustment characteristics of a typical

eme

beam.
Cantilever Option
The cantilever option completely transforms the eme Gantry Crane. By simply adding the cantilever and counterweights, the eme Gantry Crane can now "fish" over obstructions or barriers. We've divided the counterbalance weights into ten 26-pound plates for simple transport. 
Water & Wastewater Plants
We can help reduce costs, increase efficiencies and make work safer at your facility or project site.
Give us a call 1-888-679-5283 
or Chat with Us!
Join our community of eme Operating Professionals!