Helicopter
The eme Max Gantry Crane series is designed specifically for aircraft and helicopter maintenance lifting.  Our innovative aluminum design is lightweight, portable, moveable under full rated load and can be customized for your specific aircraft and maintenance environment. 
eme Max Gantry Crane Series Overview
The eme Max Gantry Crane series is purpose built for the aviation and helicopter maintenance environments, providing unparalleled stability at all lift heights, beam lengths and lift capacities.
Our Max series eliminates the need for permanent overhead cranes or immobile steel gantries. It mitigates the risk associated with ad hoc maintenance strategies such as hanging components off of a forklift while several AME's try and maneuver it to safety.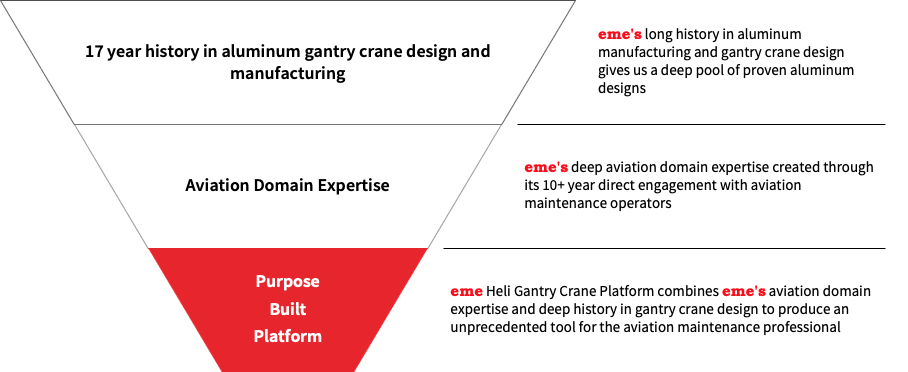 Lightweight, Portable, Easy to Use
The eme Max Gantry Crane all aluminum design is easily assembled by two operators. The lightweight design allows for it to be moved aside when not in use.
An operator can take the Max Gantry into the field to repair an aircraft that needs maintenance. It is easily transported to an off-site location in a pickup truck or van truck. We understand that aircraft can become stranded on a roof-top helipad. Getting equipment to the rooftop in a commercial elevator can be troublesome, which is why we invented the eme Split-Beam. The Split-Beam breaks into two smaller beams for easy transport and can be quickly assembled onsite.
The Max Gantry can be adjusted as an operator works on different types of aircraft. The beam height and width can be adjusted in 8-inch increments.
As with all eme Gantry Cranes, the Max Gantry Crane can be moved under full load.
Customer Service and Rapid Turnaround
As a customer-first organization,

eme

prides itself on rapid order turnaround. We can typically have your custom

eme

Max Gantry Crane shipped within a few days of receiving the order.
Safety and Certification
eme takes your safety seriously. We have been manufacturing Gantry Cranes since 2003 and have an impeccable safety record. Every eme Max Gantry Crane comes with:
Engineers Stamped Drawings
Load tested to 125% of rated capacity
Certificate of Test shipped with each product with corresponding serial number
Our Max Gantry Crane Warranty
We have full confidence in our product design and craftsmanship, which is why we offer the most comprehensive 10 year warranty in the industry. 
Water & Wastewater Plants
We can help reduce costs, increase efficiencies and make work safer at your facility or project site.
Give us a call 1-888-679-5283 
or Chat with Us!
Join our community of eme Operating Professionals!